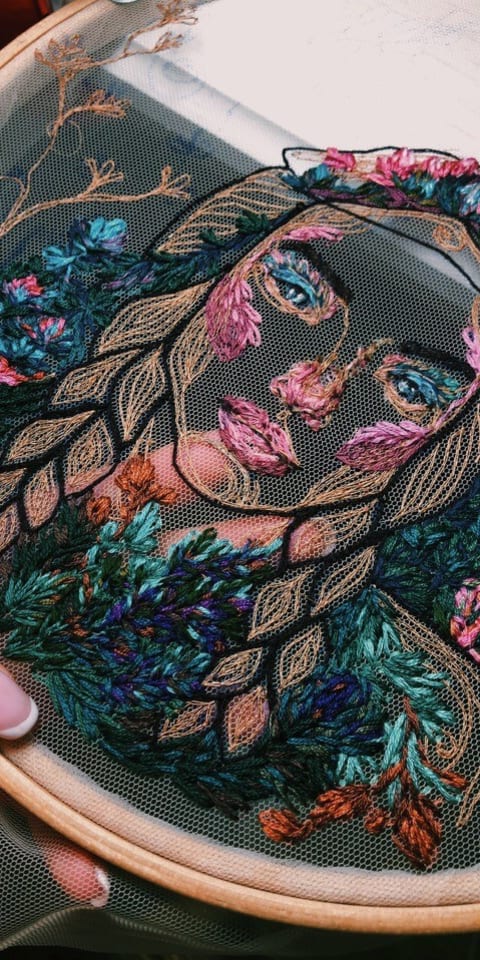 2021/02/25
Katerina Marchenko transforms embroidery from craft to haute couture and art, a meditative aesthetics experience
Moscow-based fabric artist and designer Katerina Marchenko stitches brightly colored threads into tulle to form elaborate embroidered images of animals, portraits, and anatomical studies. She also gives online courses on her website

Source: KATE MARCHENKO
---

TAKE ME THERE
Marchenko skips the sketching phase and starts each new piece with contours before allowing improvisation and the process itself to dictate what the final design will look like. The artist explains to Colossal that her aesthetic and techniques are inspired in part by fashion and haute couture. A 2016 sewing course inspired her to create an embroidered tulle blouse, and the following year she took an embroidery course at Ecole Lesage School in Paris.
Embroidery designer Katerina Marchenko takes the skillful craft to the next level. By hand-stitching nature-inspired embroidery designs onto net-like tulle fabric, Marchenko creates mesmerizing floating illusions. The dazzling designs shimmer on the translucent fabric: colorful insects flutter and birds soar through the air, while fish appear to swim inside the embroidery hoop "fish bowls."
She enjoys transfering famous oil paintings into framed embroideries intricately. "Embroidery is a meditative process which helps me to calm down and gather all my thoughts," she says. With clever usage of color shading and harmony, she creates one of a kind pieces each of which has an artistic feature that you can't take your eyes off. She now has 120k followers on Instagram and many of her embroideries were showcased in Moscow Biennale of Contemporary Art.